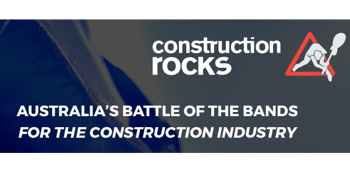 CONSTRUCTION ROCKS!
Prince Bandroom (St Kilda, VIC)
Thursday, 24 October 2019 7:30 pm
Construction Rocks calls for organisations in the Australian construction industry to form a band and battle it out for the crown of CONSTRUCTION ROCKS CHAMPIONS! ALL profits raised from events is donated to charity.
Construction Rocks Australia is sponsored globally by WSP and proudly supports the Property Industry Foundation (PIF).
Bands are formed from members of the construction industry, and companies may combine in joint ventures to form bands.
However, you don't need to be in a band to support Construction Rocks. The events are always a fun night for all, with entertaining MCs and raffle prizes to be won. The night offers a relaxed environment for networking, while raising funds for charities!
Check the link below for details for the Melbourne event on October 24 at the Prince Bandroom in St.Kilda:
https://constructionrocks.com.au/