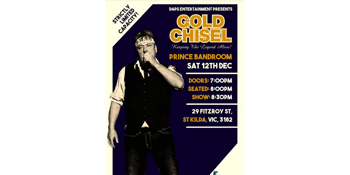 DAPS Entertainment
Gold Chisel
Prince Bandroom (St Kilda, VIC)
Friday, 26 February 2021 7:00 pm
Cold Chisel are unquestionably one of the most loved and respected bands in Australian history. They produced some of the greatest and most well-known Australian anthems and they perform with a truly unique sound and unparalleled energy.
It is with great pride that Gold Chisel take these songs across Australia and allow audiences to relive their memories and at the same time introduce these great songs to a whole new generation of fans. Not only do Gold Chisel recreate the unique sound of Cold Chisel but they also recapture the amazing energy on stage that made Cold Chisel one of Australia most loved bands and biggest draw cards.
Established in 2000, Gold Chisel has toured to almost every part of this great country and still continues to do so. They have played to many capacity crowds and have pleased even the most critical of Cold Chisel fans, including friends and family members of Cold Chisel themselves.
Critics have praised Gold Chisel for being able to replicate the sound to the point where if you had your eyes closed you would think you were actually listening to Cold Chisel. There have been a lot of Jimmy Barnes and Cold Chisel tribute bands pop up around the country since Cold Chisel first disbanded in 1983, but there is 'Only One' GOLD CHISEL. Described by many as "the closest thing you will ever find to the real thing", even Jimmy Barnes' younger brother, Alan Barnes has referred to Gold Chisel as "THE PREMIER COLD CHISEL SHOW IN AUSTRALIA" and has himself joined them on stage on several occasions. Alan said "Singing with Andy (referring to Gold Chisel's singer and frontman 'Andy Lutze') is just like singing with my own brothers Jim and John (referring to his brothers Jimmy Barnes and John 'Swanee' Swan). Gold Chisel are Australia's Premium Cold Chisel Tribute Show. I wouldn't just get up and sing with any band, but I would get on stage with these guys anytime." Swanee, Jimmy's older brother and Aussie Rock Legend in his own right, has also joined Andy and Gold Chisel on stage a few times and said "Andy fits the mould perfectly. Singing with him is like singing with my own brothers" (referring to Jimmy & Alan). These are extremely high accolades coming from family members of Cold Chisel themselves and has earned Gold Chisel the respect they receive at performances right across Australia.
Gold Chisel has earned its reputation as Australia's No. ONE Cold Chisel tribute show and needs to be experienced to be believed. - Pearl Magazine
Triple M's 'Higgo' Tweeted whilst seeing Gold Chisel live: "Watching Gold Chisel, they are VERY VERY good!" And Triple M's 'Ugly Phil' said on the air: "Andy is the best Jimmy Barnes impersonator I have EVER heard!" Gold Chisel also use state-of-the-art sound and lighting equipment adding a real concert type atmosphere to all their shows. Gold Chisel have thrilled even the toughest of Cold Chisel critics with their performances and are a 'must see' if you are a Chisel fan.
This show will have seated ticket options as per current COVID 19 regulations and this show will be governed by all COVID 19 regulations in place on the showdate.

*SEATED GENERAL ADMISSION PURCHASERS WILL RECEIVE A $15 DRINK CREDIT
* $49.95 GENERAL ADMISSION STANDING TICKET PURCHASERS WILL RECEIVE A $10 BEVERAGE CREDIT

Each colour coded area is equal and these areas are colour coded to allow the venue to efficiently follow and adhere to current COVID 19 regulations r.e seated live music events.

Please head to: https://theprince.com.au/ for all information on dining options before the show within the venue complex at Prince Public Bar, Prince Dining Room, Little Prince Wine, Prince Rooftop and also accommodation options at The Prince Hotel.