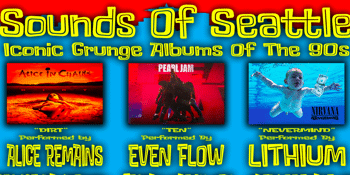 SOUNDS OF SEATTLE - Iconic Grunge Albums of The '90's
Prince Bandroom (St Kilda, VIC)
Friday, 5 March 2021 7:30 PM
"Sounds of Seattle" is a tribute to the most Iconic Grunge albums of the 90s, all 3 albums will be played in thier entirety by some of Australia's best and most authentic tribute acts.

TEN - PEARL JAM
Iconic albums of the 90s don't come much bigger than Pearl Jams juggernaut "Ten" and with visions of Eddie Vedder swinging from the roof and jumping into crowds Pearl Jam were thee live band to see in the 90s.. "Even Flow-The Australian Pearl Jam tribute show" will be on hand to have you singing your guts out to classics such as "Alive" & "Jeremy"

NEVERMIND - NIRVANA
With such grunge anthems as "Smell like teen spirit" & "Come as you are" Nirvana hit the scene like a freight train with thier magnum opus "Nevermind" and Australia's most authentic Nirvana tribute "Lithium-The Oz Nirvana tribute" will recreate this iconic album live on stage with the same intense energy that had us all hooked back in the glory days of Grunge rock...

DIRT - ALICE IN CHAINS
Coming straight from thier recently sold out Bendigo hotel show Melbourne's own "Alice Remains-Australias Alice In Chains tribute" will be performing the cult classic "Dirt" by Alice In Chains in its entirety along with select hits spanning thier career discography... look out for anthems such as "Would" and "rooster"

One night only, Absolutely not to be missed!!!