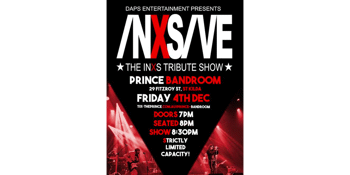 DAPS Entertainment
INXSIVE
Prince Bandroom (St Kilda, VIC)
Friday, 4 December 2020 7:00 pm
INXSIVE, THE INXS TRIBUTE SHOW
INXS helped shape the Australian musical landscape in the 80's and 90's. Their infectious blend of dance/rock saw them conquer the music charts not only in Australia, but world wide. They built a reputation for staging electric and engaging live shows, fronted by their wildly charismatic and talented lead singer, Michael Hutchence.
INXSIVE reproduce not only the sound of INXS, but also the live show that made them as memorable as they are today. INXSIVE give every audience the opportunity to re-experience the inspiring, and proudly Australian music that INXS created throughout their career. INXSIVE have been performing for pubs, nightclubs, theatres, corporate and larger outdoor events, both locally and nationally since 1997.
INXSIVE are an absolute "must see" for all INXS fans and lovers of classic Aussie rock music!
This show is a seated show as per current COVID 19 regulations and this show will be subject to all COVID 19 regulations in place on the showdate.

Each colour coded area is equal and these areas are colour coded to allow the venue to efficiently follow and adhere to current COVID 19 regulations r.e seated live music events.

Please head to: https://theprince.com.au/ for all information on dining options before the show within the venue complex at Prince Public Bar, Prince Dining Room, Little Prince Wine, Prince Rooftop and also accommodation options at The Prince Hotel.