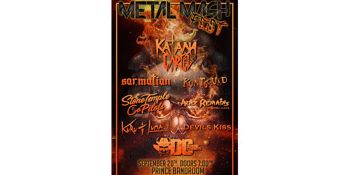 METAL MASH!
Prince Bandroom (St Kilda, VIC)
Friday, 20 September 2019 7:00 PM
METAL MASH!
FRIDAY SEPTEMBER 20TH
Prince Bandroom hosts some of Melbourne's best metal & hard rock acts on a night of full blown head banging metal and hard rock not to be missed featuring: Katana Cartel,
Sarmatian, Kuntsquad, STP Trtibute, Alice Remains, Kuru Luma, Devil's Kiss & Demonic Cowboys.