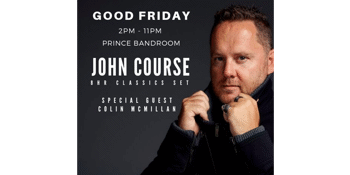 JOHN COURSE(8 Hour set) - GOOD FRIDAY 2019
DJ Colin McMillan
Prince Bandroom (St Kilda, VIC)
Friday, 19 April 2019 2:00 pm
John Course started playing his now legendary 8 hour sets on Good Friday over 10 years ago with last year's event a sold-out day time party at Greenfields.
The tradition continues as John takes his once a year party to the legendary Prince Bandroom, (former home to his One Love residency), where he will again dig through the last 25+ years of amazing club music for a special day of classics.
Joined by long-time friend and fellow DJ Colin McMillan, Good Friday is one of those special parties where you hear tracks that take you back in time alongside selections from right now… A party where you dance, drink and celebrate tunes that are the soundtrack to 25+ years of Melbourne clubbing with other like-minded people. From Chevron & Chasers, to QBar, to One Love and of course many as heard on Ministry of Sound & Vicious compilations that John has mixed, it's simply a feelgood event with wicked music!
A sold-out event for the last three years, get in early and ensure you dance the afternoon and night away!!!

PRINCE BANDROOM - 19.4.19 - 2PM TO 11PM