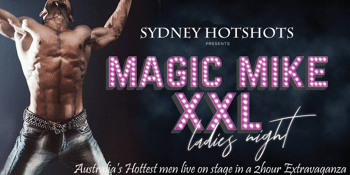 Sydney Hotshots presents
Magic Mike XXL
Prince Bandroom (St Kilda, VIC)
Thursday, 4 April 2019 8:00 pm
The Sydney Hotshots is Sydney's longest running and most successful male revue show. They are toned and fit, sport washboard abs, and have cheeky twinkles in their eyes. The choreographed dance show sees them performing across Australia and N.Z all year long, to the laughter and screams of an estimated 80000 women annually.
Its less Full Monty and more Magic Mike and is one of the most popular male revues to ever come out of Australia.

Funny, cheeky and upbeat – a good old fashioned ladies night out!