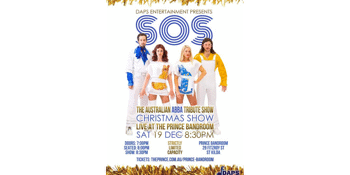 DAPS Entertainment
SOS: A TRIBUTE TO THE SONGS OF ABBA - CHRISTMAS SHOW
Prince Bandroom (St Kilda, VIC)
Saturday, 19 December 2020 7:00 pm
SOS - A TRIBUTE TO THE SONGS OF ABBA
SOS is a high energy ABBA show. Performing greatest hits from the Swedish super-group mixed with a selection of the hottest disco tracks from the 70's, SOS creates a show that takes audiences on a wild ride back to the party decade where ABBA ruled the dance floor!
Armed with fantastic costumes, incredible vocal talents, animated ABBA dance moves and crazy Swedish accents, SOS create a show that is both exciting to watch and even more exciting to be part of.
For years the members of SOS have been leading a double life. By day mild mannered musicians by night crazy ABBA fans, With a healthy love of all things Swedish and an obsession with 70's disco music, they banded together to obsessively re-create the sound, music and look of the Swedish pop sensation ABBA. Walking out on stage, they leave behind their every-day lives and transform into the rock superstars - Bjorn, Benny, Agnetha and Freda.
The music of ABBA lives on and on and on with SOS
This show is a seated show as per current COVID 19 regulations and this show will be governed by all COVID 19 regulations in place on the showdate.

Each colour coded area is equal and these areas are colour coded to allow the venue to efficiently follow and adhere to current COVID 19 regulations r.e seated live music events.

Please head to: https://theprince.com.au/ for all information on dining options before the show within the venue complex at Prince Public Bar, Prince Dining Room, Little Prince Wine, Prince Rooftop and also accommodation options at The Prince Hotel.