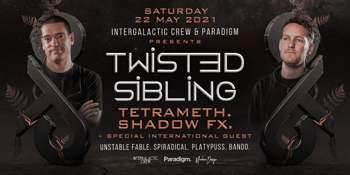 INTERGALACTIC CREW & PARADIGM presents
Twisted Sibling + Special International Guest.
Melbourne - Venue TBA (, VIC)
Saturday, 22 May 2021 9:00 pm
Paradigm & Intergalactic are excited to join forces to bring you the first in a series of underground parties.


Artists
We are excited to bring you for the first time in over 12 months.
↠ Twisted Sibling
James & Peter Hayes deliver a live collaboration of serious progressive style that always creates a vibrating dance floor, with just the right ingredients to push the envelope that little bit further. Each artist displays their own very personalised style that holds an underlying depth of musicality inspired by a lifetime of working with music. Their live set combines a blend of both artists' individual tracks along with many collaborative works. Peter & James are both currently working on a collaborative EP due out on Weapon Records. An eclectic concoction of thick floorboards, intelligent musicality & relentless groove. Two of the most prestigious maniacs in the Aussie bush.
↠Tetrameth
"The bastard spawn of several ex-rock bands, and the after-effect of the digital age. "Tetrameth'' is the brainchild of musician/producer, Peter Hayes. A seasoned psychonaut, & an artist that has played & headlined some of the leading electronic music festivals around the globe. Having released 2 significant and critically acclaimed albums . "Psychological Pyrotechnics" (2006) "The Eclectic Benevolence" (2010) on Zenon records.
↠ Shadow FX
Shadow Fx is Melbourne based producer James Hayes. Once again, he returns to Brazil to deliver his unique brand of progressive music. Described as a blend of deep, funky, morning grooves that are distinctively shaped from the Zenon sound. Intricate percussion lines interplay with emotive synth lines, then pieced together in the most intelligent of progressive structures.
↠ SECRET SURPRISE GUEST
We have a very special surprise announcement coming in May – We think you will all be incredibly happy with the result
↠ Production
☖☗☖. Special FX
☖☗☖. Lasers
☖☗☖. Visuals
☖☗☖. Live Performances
☖☗☖. Custom Decor